25 September 2019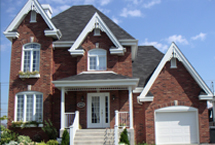 Questioning the Benefits of Home Ownership
Owning a home brings many benefits. It is important to weigh the advantages and disadvantages regarding the acquisition of a property. For that, you may need the help of real estate professionals: financial consultant, real estate broker, notary, inspector, etc. After some brief calculations, we often realize that it could be worth investing in mortgage payments (often similar to those of a rent) to save later in life!
What is my Borrowing Capacity?
It is important to make a realistic budget with the help of a financial advisor. To begin with, use a borrowing capacity calculator on the website of your financial institution. This is not an official pre-approval, but it is a good starting point to evaluate your financial situation briefly.
Your budget might not allow you to buy the home you will live in all your life. You have to see the purchase of a first home as a step to reach the property of your dreams. By buying a smaller home, like a condo or a townhouse, you will be able to save more for your future home. This is a good way to invest safely.
Do not forget the various costs associated with the purchase of a new house. "Other costs are often neglected in the calculations of expenses when anticipating to buy a house. It is the case of transport costs (if a couple has to get away from work to access a property) and inspection and notary fees" (Source Canoe.ca)
What are my Research Criteria?
There are as much properties as buyers. It is essential to list your current and future needs in order to meet most of your needs in the next few years. Are important: the size of the house, the land, the number of bedrooms and bathrooms, and heating and air-conditioning systems. Do you need a storage place? An office?
The Buying Process
Once your budget is established, your research criteria determined, and dream property found, you must make an offer. It is a document in which we find the date, the offer, and purchase conditions. If you are dealing with a real estate broker, he will take care of writing the offer.
If the offer is accepted, it is strongly advised to have the house inspected by a professional. It is not legally required, but this step could make you avoid a lot of trouble; the inspector will identify the weak points of the property, and perhaps you could renegotiate your price.
Once the loan is authorized, you should shop for home insurance, dated on the day of you taking possession of the residence; a copy of this insurance must reach the notary a few weeks before your appointment with him. He will conduct some background checks: title deeds, certificate of location, verification of taxes, and signing the various legal documents relating the loan of the mortgage.
On the day of taking possession of the house, your notary, as well as the seller's notary will exchange the signed documents and money, and you name will officially be on the property title. You can finally walk away with the keys!
Now I am the Owner
There are only two things left to do: enjoy your new property, and fulfill your financial responsibilities. Make your mortgage payments in time, your tax payments, electricity and everything else to maintain a good financial health and credit record. A little advice: plan a backup fund for certain repairs. Over time, all properties will require renovations or major repairs. The roof, the hot water tank, the windows, … several repairs can be anticipated, and it is possible be prepared financially.